Village Vancouver Newsletter and Calendar of Events
Summer 2013
Welcome to the summer 2013 edition of the Village Vancouver newsletter and Calendar of Events.
People get their hands dirty in preparation for building a cob oven
as part of the City Commons placemaking project that took place
this July. Photo from Vancouver Tool Library.
Summer is a time when many people take lengthy vacations, but many Vancouverites can't seem to resist taking advantage of the warm, dry weather to get their hands dirty and make Vancouver more awesome!
This summer has seen more than its fair share of cool neighbourhood-building activities, some of which you can read about in this newsletter. The City Commons initiative by the Vancouver Tool Library was a multi-day placemaking event modelled after Portland's annual Village Building Convergence, and resulted in several unique new Vancouver features including a public intersection plaza, a cob oven, an urban farm and an educational theatre!
Meanwhile, across the city many people have worked hard to build new community gardens in their neighbourhood, including the Village Vancouver-sponsored Woodland Community Garden near Commercial Drive. At the same time, SOLEfood planted a special new garden of its own - North America's largest urban orchard at Main and Terminal!
When you see any of these inspiring new places, remember: each of these places began as a mere thought in the mind of someone who decided to translate imagination into reality - and brought others in their community on board to collectively realise a vision.
What do YOU imagine for your community? We hope that some of the project described here will inspire you!
In this newsletter:
Seeking Village newsies!

Send us your sweet garden pics!

Summer recap

Earthwalks Vancouver

FREE Intro to Permaculture Day Aug 26

Rural-Urban Permaculture Design Certificate

Permaculture Design Certificate Course at UBC Farm beginning August 17th

Foodshed Vancouver: Agricultural Planning for Food System Resilience

Woodland Community Garden in full bloom

Popular Ecological Economics courses return this fall

City Commons makes places in Vancouver

Vancouver home to North America's largest food orchard

Intro to Beekeeping course in West Van

Exhibit: The history (and possible future) of small scale farming

Harvest Festival and Vegetable Contest at Frog Hollow
There's still plenty of summer left - enjoy it!
Your summer newsletter team,
Become a member today!
Have you joined the Village Vancouver community by joining our website? We hope you'll consider
becoming a member of the Village Vancouver Transition Society
as well, making our movement even stronger! It's easy to join -
just click here
!
Support Village Vancouver and local economic resilience in one go!
Now you have another way that you can support the work of Village Vancouver
- and help build a more resilient
local economy at the same time! Simply trade in some of your Canadian dollars for Seedstock Community Currency that Village Vancouver has received in donations from local businesses. For every dollar you contribute, receive an equal amount of Seedstock in return which you can spend at any
participating local business
(
now more than 80 of them!) for anything from organic food to soap, yoga, counselling, photography, DIY supplies and more. New businesses are being added all the time, so check the website regularly,
subscribe to the Seedstock newsletter
, or
visit them on Facebook
.
Nature + Technology = Art
On July 28, Village Vancouver co-sponsored a digital eco-art event by the LocoMotoArt Collective at
Queen Elizabeth Park that was attended by 400 people. The installation in the quarry consisted of 12
visual projections, audio, sound art and interactive new media works highlighting sustainable practices with technology.

Seeking newsletter team members!
Do you love spreading the word about the positive things people are doing in Vancouver to transition to a more positive present and future?
If so, we would like to invite you to join the Village Vancouver newsletter team! Our newsletter is read by more than 1000 people each month, inspiring our readers with the cool Transition-related things happening around town and keeping our members informed of the opportunities to get right into the thick of the action.
A good newsletter capturing all the important stuff takes a good team, and we would like to invite you to become a member of that team! To learn more about how you can contribute, please write to us at newsletter@villagevancouver.ca.

Village Vancouver Summer Recap
Here are just a few of the ways that Village Vancouver has been keeping busy this summer:
Car Free Day and Khatsalano Festival
Village Vancouver rocked it as usual with its humungous Demo Transition Village on Main Street on June 16th.
This year we took over both sides of the street, occupying the whole intersection at Main & 13th. 18 tents and lots of open air displays, including chickens, solar panels, emergency preparedness, a seed library, a plastic-free zero waste kitchen, neighbourhood villages and neighbourhood food networks, permaculture, community visioning and resilience, our sustainability library, and much more. We built seed library boxes and swapped and gave away seeds and seedlings, offered gardening and composting advice and refreshments, and talked to hundreds of festival goers about Village Vancouver. Several community groups also participated in the village, including SPEC, Cottonwood Community Garden, False Creek Watershed Society, and Vancouver Urban Farmers Society, as well as a number of local social enterprises, including Homesteaders Emporium, Vancouver Renewable Energy Co-op, and Grant's Gourmet Gardens. One month later, we turned around and did it again (on a smaller scale) at Khatsahlano.
Here's a report from member Jill Whitelaw:
Car Free Day on Main street was awesome! The whole intersection was Village! It was magical even, and a float went by saying next year - a parade! Let's do it! Duncan's chickens were there in a new house with cool shade coverings [...] Janine was holding down the centre with her Living Zero Waste display. I asked her if she got a grant...No she said, she just lives this way.
The intersection has a sense of place to it already. It had a flow as people moved up the street from 12th, a big rush of them would come as the light changed and then it would petre out and start again. I was handing out flyers from Homesteaders Emporium, which were these beautiful colourful flyers about how to make some thing - almost a workshop on a card, and it was like I was offering worms or jam and it worked, people would take them and then filter in and see the chickens and plant a sunflower, and see
solar power and seedboxes! Why don't we have Commercial Car Free day on a different day? Many of our friends are over there having fun, but what Ross and us have started here is really becoming, and it is, a niche, like a little nest of wonderment that I can't fully describe because i can't describe a look in peoples eyes, or the way they are all working together... well maybe I could, and I want you to go there too and see and be this becoming. They are going to paint the street near there. Check City Commons, the Vancouver Tool Library's project and you can help paint too in July. There will be a week when everyone can go out and volunteer around the city to make 7 places where we can feel...a sense... of belonging?
Folk Fest
Village Vancouver had a prime spot at Folk Fest thanks to super tarp runner Derek Ireland, who even made it into the Tyee (see below)!
Derek Irland (foreground, yellow shirt) runs the tarp for Village Vancouver
at the 2013 Vancouver Folk Fest, getting a prime location for the Village!
Photo by Geoff d'Auria, Tyee.ca
Got a sweet garden? Send us pics!
Send us photos of the beautiful, creative or unusual ways that you are gardening in Vancouver, so that we can share them with our readers this fall!
Community gardens, backyard gardens, rooftop gardens, balcony gardens - every garden is unique and interesting, and we want to see yours.
Please send your sweet garden pics by August 31st to newsletter@villagevancouver.ca.
Thanks!
Take part in an Earthwalk this August and September!

False Creek Watershed Society has partnered with Village Vancouver to offer a series of "Earth Walks".
We live in the city of Vancouver with almost a million other residents. We are blessed to be surrounded by mountains, forests, oceans and rivers. But how well do we know about nature in our own backyard? The Earth and the natural world are present everywhere – from the arboretum of Queen Elizabeth Park to the buildings of downtown Vancouver to our last wild salmon stream to the farm flats of Southlands and even as nature applies to human economic theory.
Please join us for this exciting series of free walks this summer and fall. The leaders are amazingly knowledgeable in their specialty - so come along to listen to their words, connect with the land and ask lots of questions!
Here are some of the Earthwalks coming up this August and September:
August 10: "Still Creek - Lost" with Bruce Macdonald. A walk to retrace a portion of the Still Creek system that not long ago was a lake one mile long and it was still a remote portion of an uninhabited wilderness. 1:00 – 3:00
August 11: "Still Creek - Found" with Bruce Macdonald. Come and experience Vancouver's seven block long Renfrew Ravine, home to Vancouver's only deep ravine and flowing creek, set in a natural wilderness that amazingly lies mostly forgotten between 22nd and 29th Avenue. 1:00 – 3:00
August 17: "Musqueam Creek - Vancouver's Last Salmon Stream" with Terry Point.

The tour will take you through Vancouver's last wild salmon stream and the restoration project that has been done over the last eleven years by Musqueam Ecosystem Conservation Society.

1:00 – 2:30
Aug 25: "A Walk 'Roundabout Kits' - Community Art, Bees and Gardens" with Mary Bennett.

Visit some of the Green Streets gardens tended by volunteers in traffic circles and corner bulges around Kitsilano. See how gardeners are encouraging bee and butterfly habitat and building community connections through creative use of their gardens.

2:00 – 4:00
Sept 8: "A Lost Stream Walk - Gibson Creek and Gibby's Field" with Dan Fass. A walk along the path of an old creek, showing how the creek influenced the development of this part of the city. 2:30-4:30
September 21: ""Salmon , Vegetables, Milk and Hay Fields" with Terry Slack . Listen to tales about the many tidal salty islands and diked fertile river-flats and historic farmland all along the North Arm of the Fraser River. 10:30 – 12:00
Free Intro to Permaculture Adventure Day August 26!
"Though the problems of the world are increasingly complex,




the solutions remain embarrassingly simple."

- Bill Mollison
If you been meaning to learn more about Permaculture, the visionary set of ecological design principles and ethics that can be applied to any system from a garden to a whole society, now is your chance!
Join permaculture teacher Delvin Solkinson on August 26th for a FREE Intro to Permaculture adventure day in the beautiful Sunshine Coast community of Roberts Creek and the lush rainforests of Mt Elphinstone.
See the poster below or at http://www.gaiacraft.com/gaiacraft-courses/category/introduction-to-permaculture-classes for more information, and contact delvin@cosm.org to reserve your spot! Don't delay - space in this free course is limited and tends to fill up quickly!
2013 Rural-Urban Permaculture Design Course starting September
For permaculture teacher Delvin Solkinson, the great outdoors is the best classroom
Permaculture Design Certification Course @ UBC Farm
Design Solutions for Sustainable Food, Building and Community Systems
August 17th - Sept. 8th, $950 - $1250.
Woodland Community Garden in full bloom!
Urban Farm Tours with the Vancouver Urban Farming Society and Young Agrarians
Apply to be a Community Surveyor on Urban Farming!
City Commons makes places
City Commons intersection painting at E 10th Ave and St George Street
SOLEfood plants largest urban orchard in North America
Did you know that this summer, SOLEfood, the organisation that has pioneered the use of underutilised urban spaces to grow food while creating employment and training opportunities for DTES residents, has quietly planted North America's largest urban orchard on 5 acres of land at Main and Terminal in Vancouver? Read about it here - and better yet, go see for yourself!
Intro to Beekeeping Course in West Van Sept 13-15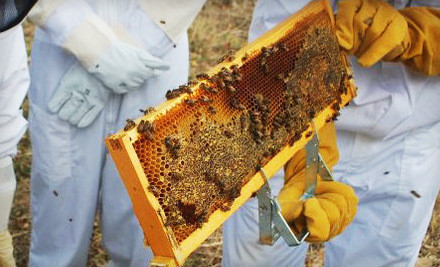 Bees are an integral part of our environment and play a key role in BC's agricultural industry. This exciting and fun-filled program is offered to and is designed for those with or without beekeeping experience. The course teaches beekeepers to keep bees successfully through best management practices. Learn the basics of good beekeeping management for those planning to keep bees, new beekeepers, or for people who are just fascinated by pollinating insects!
Introductory Beekeeping Course
Learn beekeeping management, bee biology and behavior, crop pollination and management of bee diseases and pests. Emphasis will be placed on disease identification and control, including lab instruction. This 18 hour course includes "hands-on" bee visits. Other bees, including bumble bees and solitary bees will also be discussed.
Reference materials provided. Certificate will be issued at the end of this course. The course fee is $175 per
registrant.
Only 20 spots available! For more information and to register, please contact Jacquie Bunse 604-521-4493, e
mail: bunsebee@telus.net.
The History (and possible future) of small scale farming
Thanks to one of our readers, Suzette Curtain, for passing on this information about an interesting exhibit at the BC Farm Museum in Fort Langley, by
UBC Ag Masters grad Kate Petrusa. Suzette writes: "Kate is really involved in small scale farming and this show that she's created is all about the history of small scale farming and where it might be headed now, using photo's and video's…really informative and inspiring!! Anyone can go see it until mid August."
Building Welcoming Inclusive Neighbourhoods
Whatever you do, don't eat your Vegetables!!
Bring your Proudest Vegetable You Have Grown
To Clinton Park
and Enter a Contest and Win a PRIZE!!
Located at First Ave and Slocan Street
Deadline to Enter Your Vegetable is 11:30 am
Contest Announcements Begins at Noon
Yoga
,
Watermelon,
Picnic,
Bubbles,
Music
,
Face Painting
,
Environmental Youth Alliance,
Sing Along,
Seed Give Away
,
Fire Department,
Vancouver Coastal Health
Carnival Band,
Hastings Sunrise Community Policing Centre,
and More
!
Village Vancouver Calendar of Events